A look from my doorway: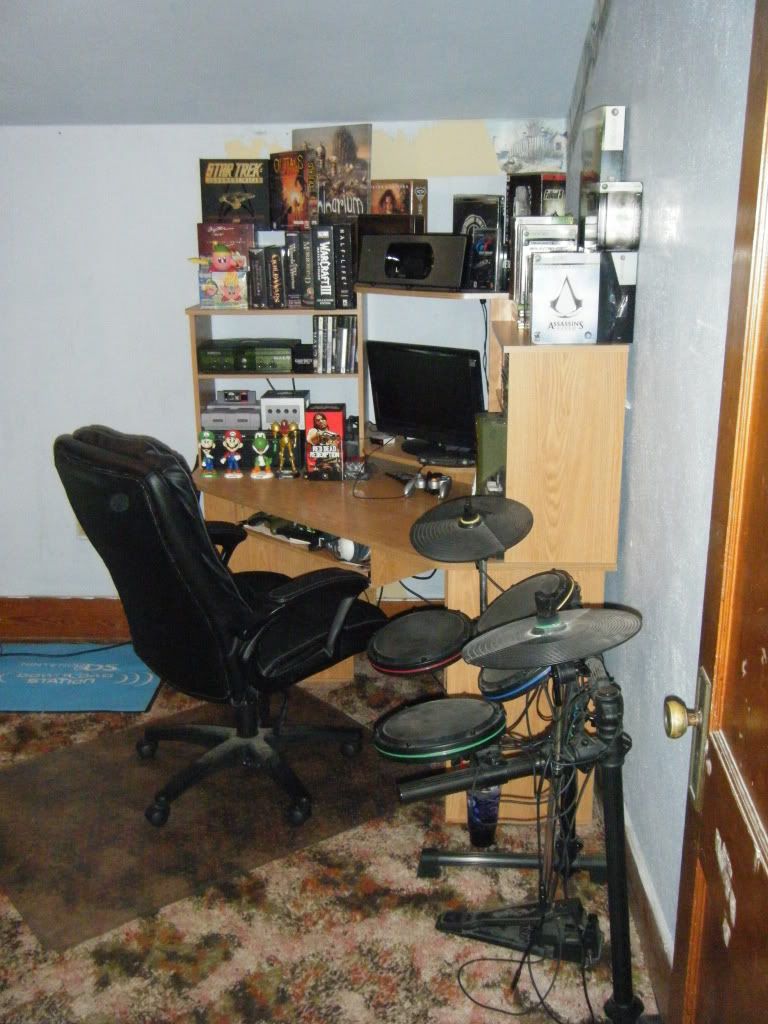 My huge corner desk.
this is the only way I have to display my games right now.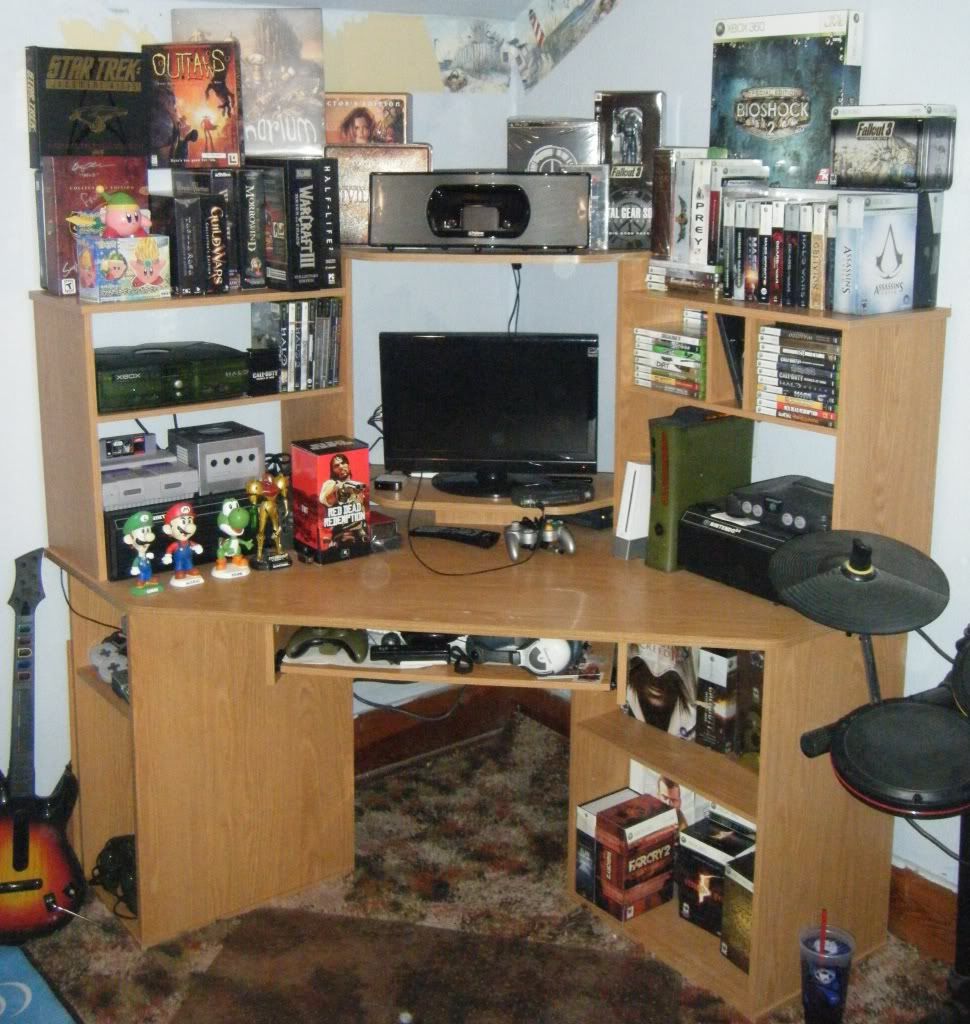 A closer look.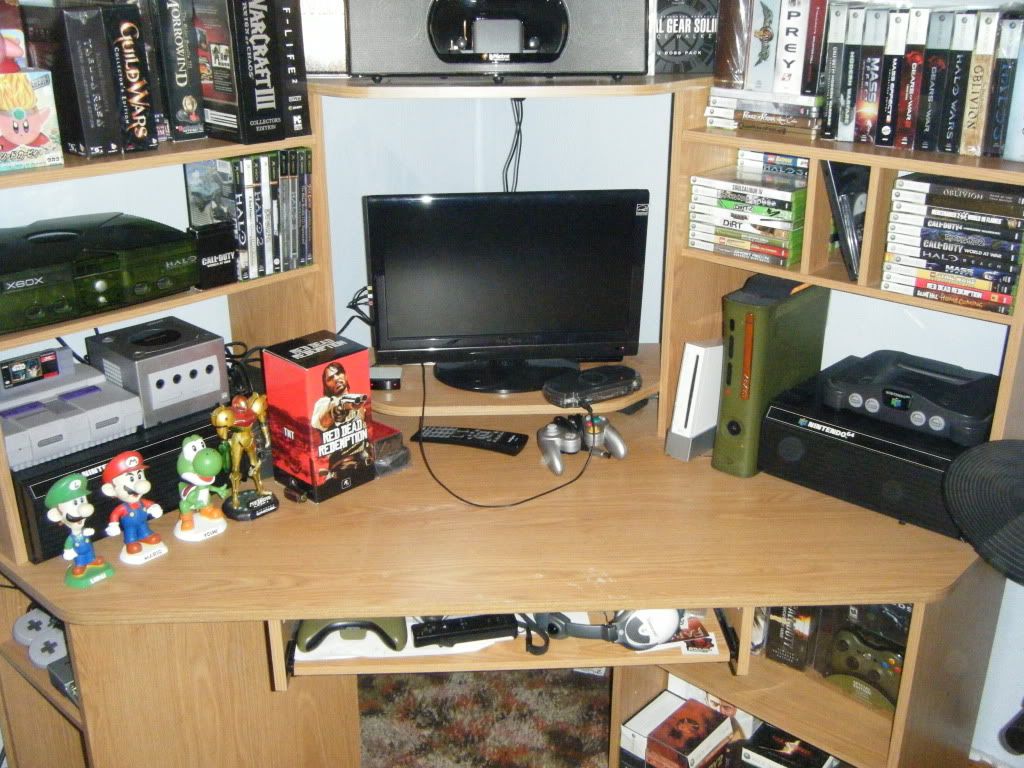 The left Side
I have my original XBOX,
Gamecube,
SNES,
A Nintendo 64 storage box (I love these!),
Several XBOX games,
A deck of Call of Duty World at War death cards (Only 20 made, was only given to high profile guys at activision!),
My Bobblehead collection (The Metroid bobblehead is probably one of my favorite collectibles!),
And some Red Dead Redemption collectibles,
The right side
My Xbox 360,
Wii,
Nintendo 64,
Another Nintendo 64 storage box,
and my XBOX 360 games (There are 2 more stacks behind the front)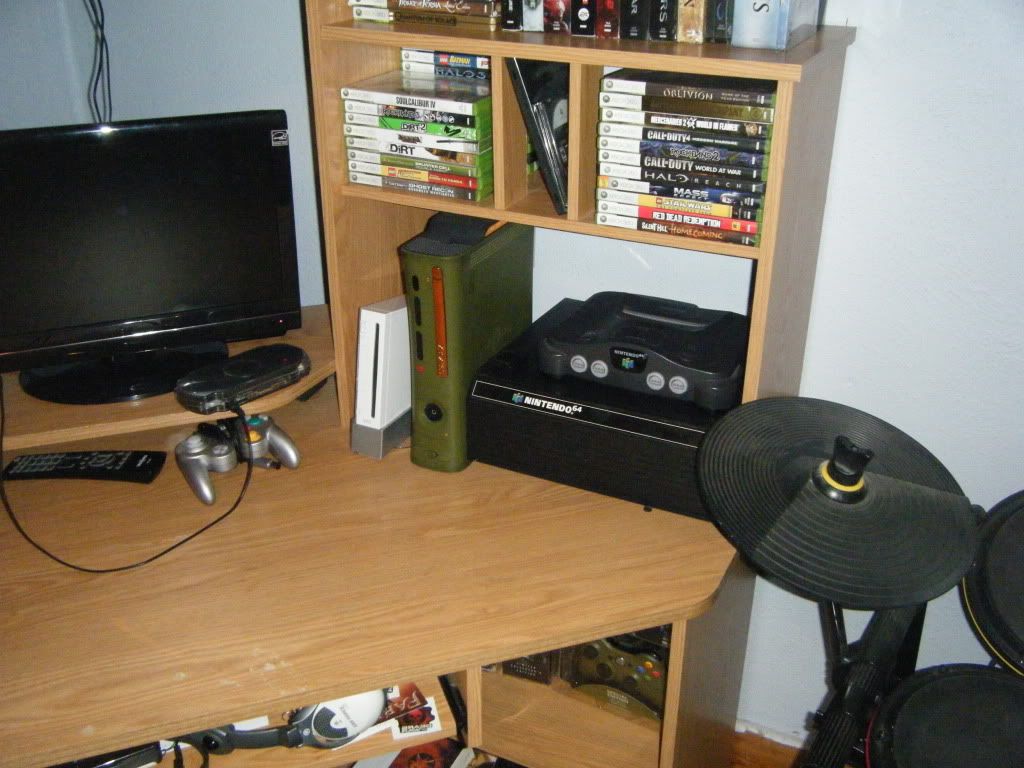 PC collection
(All my Collector's editions, plus a Kirby figure which is kind of out of place)
Neverwinter Nights Collector's Edition
Civilization III Limited Edition
Half-Life 2 Collector's Edition
Warcraft III Collector's Edition
The Elder Scrolls III: Morrowind Collector's Edition
Wizards & Warriors Collector's Edition
Guild Wars Collector's Edition
Tabula Rasa Collector's Edition
Star Trek Judgment Rights Collector's Edition
The Lord of the Rings Online Collector's Edition (Yes, it is signed!)
Star Wars Jedi Knight II: Jedi Outcast collector's edition (It's hidden behind everything
)
and some Machinarium Vinyl records (Limited to 250) still brand new!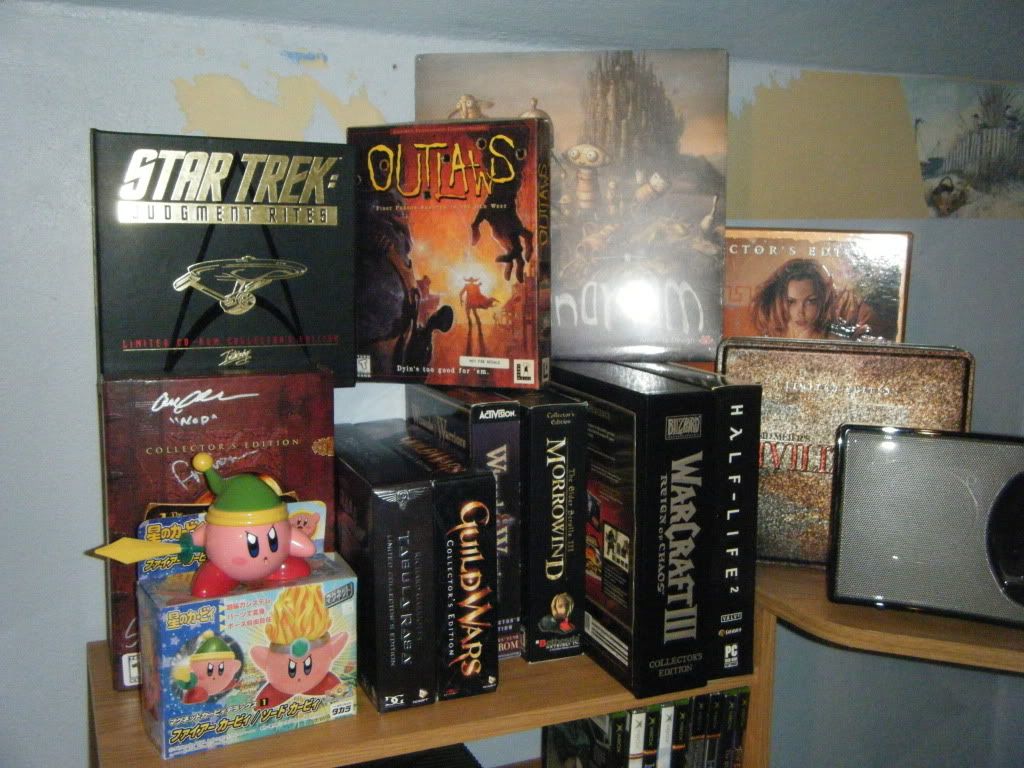 A closer look my Lord of the Rings Online collector's edition, signed by some of the devs.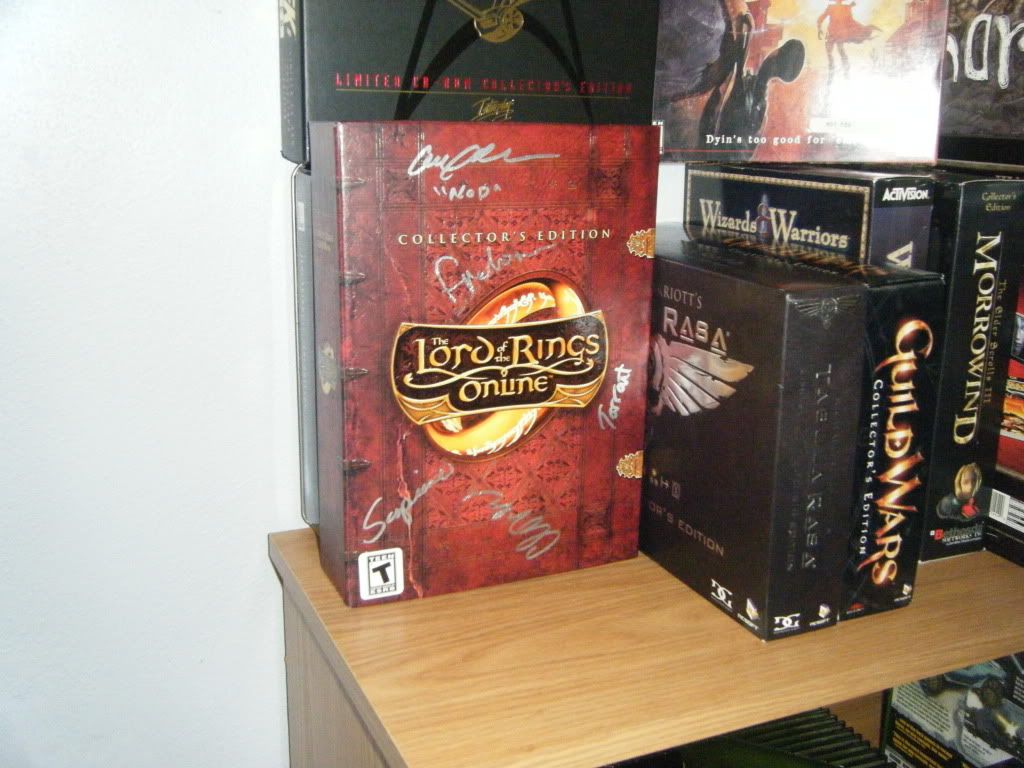 My controllers and accessories area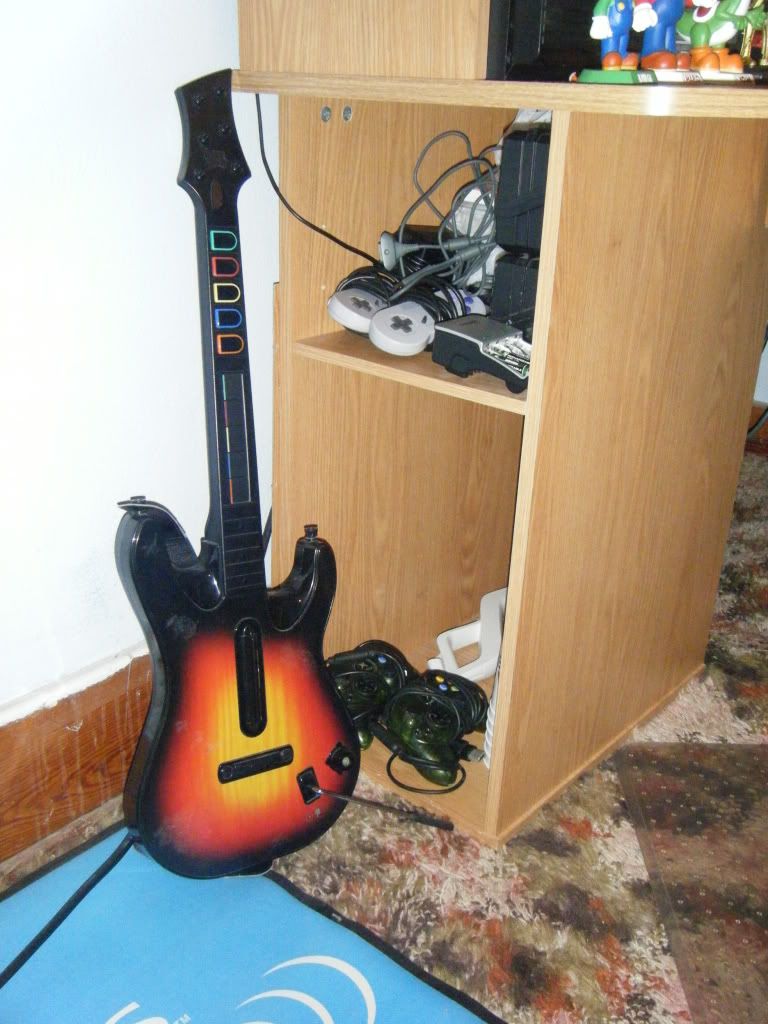 Bottom right of my desk
(Holds all my larger XBOX 360 collector's and limited editions, and some standard PC games)
Assassins Creed 2 Master Assassin Edition
Call of Duty World at War Collector's Edition
Halo 3 ODST Special Edition
Grand Theft Auto 4 Special Edition
Alan Wake Limited Edition
Farcry 2 PAL Collector's Edition
Splinter Cell Conviction PAL Collector's Edition
Resident Evil 5 Collector's Edition
Bioshock Limited Edition
Upper right of my desk
(Displays all my XBOX 360 collector's editions:), to the right are some Playstation items)
Bioshock 2 Limited Edition
Fable 3 Collector's Edition
Soulcalibur 4 Premium Edition
Prey Limited Edition
Splinter Cell Conviction Collector's Edition
Fable 2 Limited Edition
Dragon Age Origins Collector's Edition
Prince of Persia Limited Edition
Quantum of Solace 007: Limited Edition
Call of Duty 4 Collector's Edition
Call of Duty: Modern Warfare 2 Hardened Edition
Mass Effect Limited Edition
Mass Effect 2 Collector's Edition
Gears of War Collector's Edition
Gears of War 2 Collector's Edition
Halo Ways Limited Edition
Elder Scrolls IV: Oblivion Collector's Edition
Halo 3 Limited Edition
Assassins Creed Limited Edition
Fallout 3 Collector's Edition
and underneath everything is a Batman Arkham Asylum Collector's Edition